18 September 2000, Berlin
At dawn, five activists climbed the Marien kirche in central Berlin and unfurled a banner which called for:
An end to the construction of the Maheshwar Dam, Madhya Pradesh, India.
An end to Siemens' involvement in the Maheshwar dam project.
An end to the privatisation of natural resources
Support for next week's protests against the IMF and World Bank in Prague.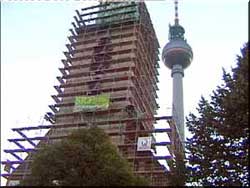 The Maheshwar dam is one of 30 mega-dams and 135 medium sized dams in the Narmada valley which will displace millions of people from their homes and livelihoods. The Maheshwar dam itself will displace 40,000 people.
The dam's supporters claim that the displaced will be resettled and provided with land. However, the Madhya Pradesh government admits that no agricultural land is available. In fact, of the 14,000 hectares required for the 7000 project affected families, only 25 hectares have been made available.
The Maheshwar dam is the first of the Narmada dams to be placed in the hands of the private sector. It will provide electricity at four times the current price and is expected to barely exceed 10% of its projected capacity. Despite the publication of a highly critical official report, and the withdrawal of a number of major TNCs, Siemens is still intent on supplying turbines for the dam.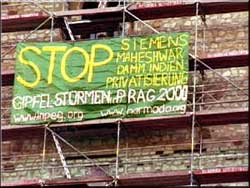 In solidarity with the millions of people of the Narmada Valley who will be uprooted, and with the mass resistance movement headed by the Narmada Bachao Andolan (Save Narmada Movement), the activists call for an immediate end to the construction of the dam.
The Maheshwar dam is symptomatic of the wider processes of neo-liberal globalisation, lead by TNCs and institutions such as the IMF and World Bank, which places profits before the welfare of people and the environment.
CLOSE DOWN THE IMF and WORLD BANK.
THE DAM WILL NOT BE BUILT.